Joe & Clara support Joining Forces
Fitness Professionals serving Military and their Families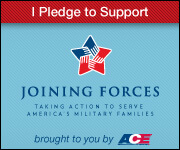 Our military and their families make sacrifices every day to serve our country. Now, JOE & CLARA is teaming up with fitness professionals across the nation to show gratitude to our men and women in uniform by offering fitness services at no cost to actively deployed National Guard, Reservists and their immediate families. It's interesting to note that in his day, Joseph Pilates was also involved with the military, whether rehabilitating soldiers wounded in combat or teaching others his Method.
In their honor, JOE & CLARA has pledged 99 hours of group fitness and Pilates classes through Joining Forces – a national initiative that provides ways for all Americans to give back to service members and their families.
For more information on Joining Forces or to make your request for a complimentary fitness class, visit www.acefitness.org/joiningforces or call 805.496.2929
If you have a special cause in need of support that we may be able to help with please contact Stacey Philipsen at 805.496.2929.
Pink Pilates Program (12 week series) with Stacey Phillipsen and Romina M. Laygo
Pilates is recognized as a uniquely restorative form of exercise decreasing stress and tension while enhancing physical and mental well-being. This 12 week series is designed to help breast cancer patients and survivors on their journey towards regaining strength and range of motion. Participants may also experience a boost in energy level, improved sleep and lessened fatigue.
The instructors at Joe & Clara are comprehensively trained in the Classical Pilates Method. Stacey Philipsen is a cancer survivor having been diagnosed with Hodgkin's Disease in 1988. Romina Laygo, the Club's Athletic Director, has extensive experience with over 5000 teaching hours.
Visit our Pilates for Breast Cancer page for more information including testimonials.